WATERFRONT HOLIDAY HOUSE IN SOUTHERN TASMANIA
THESE ARE THE FACTS
45 minutes south of Hobart
Two bedrooms
Waterfront property on the edge of the D'Entrecasteaux Channel
Large garden and lawns
Spacious living areas
Protected verandas
Private
Easily accessable to Bruny Island and the Huon Valley
Live like a local, shop at the local store on the corner of Beach Road and the Channel Highway
Live like a local fish at the end of the jetty
Live like a local visit Bruny Island on the ferry, take your car..
Live like a local buy local apples from the grower
Live like a local buy pink eye potatoes at the Oyster Cove store
COME AND STAY TO EXPERIENCE A FANTASTIC HOLIDAY HOUSE LOOKING OVER THE WATER
Wavestation is tucked away in the small town of Middleton on the edge of the D'Entrecasteaux Channel. It is private, plenty of space to meander around the garden and for children to play. The furnishings are relaxed and comfortable, just like your own home. You can settle in and live like a local. Wander to the local shop, experience the Historical walk, catch some fish, walk on the beach, find some oysters, check out the local artisians. The local smithy has fresh bread at the local store if you get there early. Only a few loaves are made.
Live like a local
After you have been to MONA, Salamanca Place and the harbour in Hobart drive south along the Channel Highway for 45 minutes. Having booked your stay at Wavestation you are in for a treat.
This heritage holiday house at Middleton has magnificent views towards Bruny Island. It is peaceful yet lots to see. The range of boats sailing and motoring along the Channel is amazing. A boating enthusiast's heaven.
Wavestation is situated in the D'Entrecasteaux Channel area of the Huon Trail with easy access to the three other areas
BRUNY ISLAND
HUON VALLEY
FAR SOUTH
Wavestation is situated 40 minutes south of Hobart overlooking the D'Entrecasteaux Channel at Middleton. Southern Tasmania is a wonderful place. Easy access from Hobart and positioned so you can discover the Huon Valley and Bruny Island.
Come and stay a while.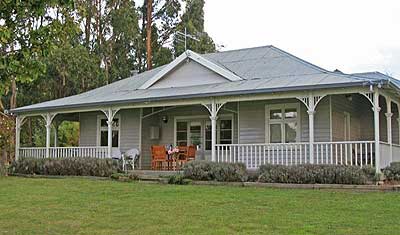 You have the whole house to yourselves...your home away from home.
Brilliantly positioned on the Huon Trail, in Middleton, ten minutes south of Kettering on the D'Entrecasteaux Channel. This charming heritage, waterfront farmhouse has magnificent views towards Bruny Island.
The property is one of the nicest coastal properties in Tasmania.
Wavestation offers quiet seclusion but easy access to wonderful areas of Tasmania including the Huon Valley, Bruny Island and the Far South to enjoy walking, sightseeing, birdwatching, bushwalking, fishing and boating.
Here you enjoy privacy. You can wander around the spacious grounds, enjoy cocktails or a barbeque in the gazebo.
Wavestation is ideally situated to explore the Huon trail and Bruny Island. Try the coast road going south and you will find wonderful places like Randall's Bay and Egg and Bacon Bay. The road then meanders through apple orchards and cherry groves. Boat building is a specialty at Franklin and at Cygnet stop of at The Red Velvet Lounge for coffee and cake or a scrumptuous meal. Cygnet is home for a lot of skilled ex-mainlanders wanting an alternative lifestyle.
Visit Bruny Island for the day and return to your haven on the mainland with easy access to the airport.